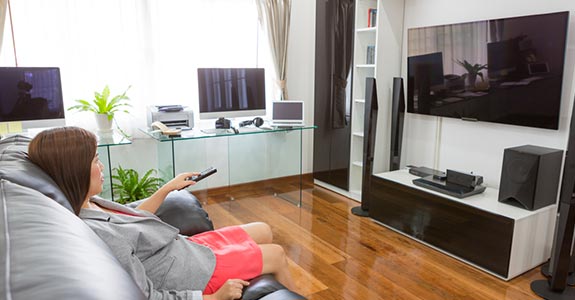 Home Theater Installation in Wisconsin
For over a decade now, Abstract Electric, LLC has been the leading source for excellent audio and video electrical installation in Wisconsin. Whether you want to kick back and watch the big game, take in the newest Hollywood thriller or just spend a night flipping channels, you can do it with the very best technology and installation possible when you hire Abstract Electric, LLC in Hilbert, Calumet County, Chilton, and Sherwood, WI. Here is a closer look at our audio and video services.
Our services: Here at Abstract Electric, LLC, we want to be the only audio and video electrical service you ever need to hire. That is why we offer a wide range of both entertainment and security based services, including whole home audio and video, home theater systems, exterior systems, smart boards, smart boxes, security cameras, intercom systems and central vacuum systems.
Seamless work: Nothing is worse than getting comfy on the couch, switching on your brand new home theater system to watch your favorite TV show and realizing that there is a bad connection. Here at Abstract Electric, LLC, we work hard to make sure that never happens with our products and our work. It is our guarantee to you.
Repairs and maintenance: In the event that your home theater system does need repairs or maintenance work, you can count on us to provide the same excellent service you got when you originally hired us for home theater installation in Wisconsin. We'll get any issues taken care of promptly so you can get back to enjoying your system.
Whether you want to kick your home entertainment system up a few notches or you are looking to beef up your home security system, Abstract Electric, LLC has got you covered. For additional information about our home and commercial electric services, please give us a call anytime at 920-871-4014, or fill out the form on our Contact Us page.